Earlier this week, RocketSTEM, an educational nonprofit, released a new publication titled the Mars 2020 Exploration Mission Guide. It is a 76-page full-color publication that serves as a fun take on the traditional press kits that NASA puts out for missions. Except for our mission guide is geared toward all ages of the general public. We've filled it with articles and photos about Mars the Mars 2020 mission, as well as included fun educational content such as a crossword puzzle, word search, two quizzes, a math lesson, and even a build your own paper Mars helicopter project from JPL.
But don't just take our word about it, please check it out for yourself here.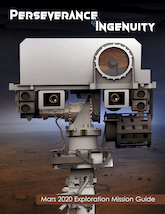 The mission guide contains zero advertising. It can be read one story at a time on our website or viewed in a full-screen PDF format on our website, as well as at Issuu, Scribd, Calameo, and Joomag. The PDF can even be downloaded from our website for offline viewing and printing.
We'd appreciate any assistance that the members of New Mars can provide in sharing this publication with as many people as possible. Thank you.
Also, we're always open to constructive feedback and suggestions on other areas we should explore.